The Australian Defence Force (ADF) this month received and began training exercises with
AeroVironment
's RQ-12 WASP AE small unmanned aircraft system (UAS). The ADF placed an AU$7.7 million order on 22 December 2014 as part of an Army Soldier Modernization Trial procurement. AeroVironment received the order from
XTEK Limited
on behalf of the ADF.
The WASP AE weighs 2.8lbs, operates for up to 50 minutes at a range of up to 5km and delivers live, streaming color and infrared video from its pan-tilt-zoom MANTIS i22 AE gimbaled payload. Launched by hand and capable of landing on the ground or in fresh or salt water, the WASP AE provides portability and flexibility for infantry, littoral or maritime reconnaissance operations.
"The man packable WASP AE unmanned aircraft system delivers powerful intelligence, surveillance, and reconnaissance on demand and directly to small tactical units or an individual warfighter," commented Kirk Flittie, AeroVironment vice president and general manager of the company's Unmanned Aircraft Systems business segment. "Increasingly, allied forces around the world are deploying our small UAS for valuable, real-time situational awareness to help them operate more safely and effectively."
AeroVironment has delivered more than 25,000 new and replacement small UAVs to customers within the US and to more than 30 international governments.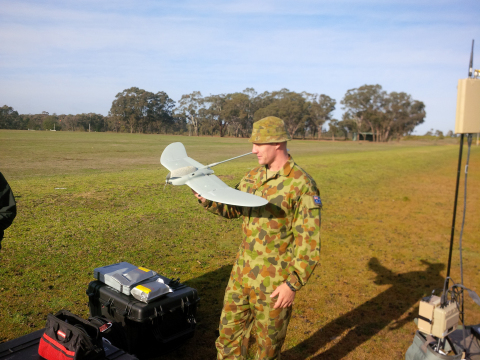 Australian Defence Force Commences Training with AeroVironment's RQ-12 WASP AE sUAS.