During Army-2015 Expo international military technical forum in Patriot Park, located in the Russian town of Kubinka in the Moscow Region, this week,
Russian minister of trade and industry, Denis Manturov
said: "
The development of around 1,400 industrial [military] technologies is envisaged in the period until 2020; to date, nearly 300 of them are already developed
."
Army-2015 Expo in Russia shocases all types of Russian military kit, including "strongmen."
The minister added that the newest items of special equipment have been created on the basis of the existing technologies, some of which were demonstrated during the 9 May Victory Parade in Moscow. Hundreds of defense companies and weapon manufacturers are taking part in the event, displaying an estimated 5,000 pieces of weaponry and military equipment, ranging from helicopters and fighter jets to tanks and small arms. The show also features Russian Strategic Missile Forces' (SMF) TOPOL intercontinental ballistic missile (ICBM) launcher and the latest version of the RS-24 YARS (SS-29) Intercontinental Ballistic Missile (ICBM) launcher's training simulator, which was unveiled for the first time at the event.
"
This year the complex of nuclear forces will be reinforced with more than 40 new ICBM that will be capable of overpowering even the most technically perfect anti-missile defence system
s," Russian President Vladimir Putin said at the show.
BTR-82A armoured personnel carrier (APC) during the demonstration programme at Army-2015 Expo.
Russian-made drones, aircraft and other equipment are being tested during the exhibition, which is, in part, aimed at bringing together potential arms developers, suppliers and purchasers with the Russian Armed Forces. Apart from a military hardware exhibition, Army-2015 features over 75 round-table discussions on multiple scientific and business-military issues, including air and space defence and security in the
Arctic
region.
Kalashnikov
, for example, show off a new remote weapon system to be mounted on the TAIFUN/TYPHOON-class mine-resistant vehicle (not to be mistaken with the aircraft) and on the BK-16 landing boat. Kalashnikov small arms displayed include the latest version of the AK-12 rifle, as well as upgraded versions of the SVD-M DRAGUNOW sniper rifle and the AK-74M assault rifle. The company exports its products to 27 countries, including the US, the UK, Germany, Norway, Italy, Canada, Kazakhstan, and Thailand.
As Paris Air Show happened concurrently, aircraft at Army-2015 Expo included
Yakovlev
YAK-130,
Sukhoi
Su-30, Su-34, Su-35, PAK FA T-50, and ANSAT-U,
Kamov
Ka-226, Mi-8 AMTSh Terminator, Mi-28N Night Hunter, Mi-35M, and Ka-52 Alligator.
Mil Mi-28N helicopters conduct a demonstration flight at Army-2015 Expo.

Russia and the United Arab Emirates (UAE) are set to sign a contract on the delivery of Russia's unique self-propelled antitank system KHRIZANTEMA-S; pre-contractual works are currently underway, according to the company. "

It is the world's only antitank system capable of finding targets without optical visibility and destroying tanks of any type, including advanced models with dynamic armor

," explained

Valery Kashin, the

Kolomna Instrument Manufacturing Design Bureau

's chief designer

.

Islamabad is in the process of purchasing Russian-made Mi-35 Hind E attack helicopters; the deal will be signed "very soon," a military source was quoted by the Pakistani newspaper Dawn on Thursday. The newspaper said that the source declined to disclose information on when and where the accord would be signed and how many helicopters Pakistan would buy. According to the Dawn, Pakistan has been pursuing the helicopter purchase agreement since 2009. Apart from helicopters, Pakistan also expressed interest in purchasing other Russian military hardware. Separately, Pakistan and Russia have signaled their readiness to clinch an agreement on training military officers in each other's countries, the newspaper said. Earlier, it was reported that Russia plans to supply the Mi-35 attack helicopters to Pakistan to help it contain drug trafficking.

A version of the Mi-24 Hind attack helicopter produced for export, the Mi-35 utilizes high-precision weaponry for destroying ground-based armored targets and providing air support for ground missions. The helicopter can be modified for use in attacks, medical evacuations or transport.

Meanwhile, the Pakistani delegation has highly praised Army-2015 Expo, according to

Maj.Gen. Asim Saleem Bajwa, the director general of the Inter-Services Public Relations (ISPR)

, the media wing of the Pakistan Armed Forces: "

The whole expo was overwhelmingly impressive. The airshow, tanks display and firepower demonstrations along with combat hardware demo were out of this world and extremely impressive. We [are] really impressed with the quality of the Russian Armed Forces and Russian military equipment.

"
Kamov Ka-52 Alligator attack helicopter taking part in the demonstration program at the Army-2015 military expo.
Unmanned vehicles were heavily featured at the expo, with functions wide-ranging from minesweeping and rescue work, to reconnaissance and armed defence. Russia's Defense Ministry has developed a complex programme to create and introduce new robotics technology which will span the next 10 years. "
This complex is, figuratively speaking, a defense supermarket, which other countries' militaries can visit to take a look, to try things out, take a drive or a shot, and purchase something
,"
Russia's Defense Minister Sergey Shoigu
said.
The expo also included an ultra-high frequency 'microwave gun' capable of deactivating aerial drones as well as high-precision warheads. Putin was very satisfied and impressed to see Russia's next generation military robots. The show included the URAN-6 minesweeper, which was already tested in field and such untested robots as the anthropomorphic 'Avatar' robots, which require more work. Russia is also working on home-made UAVs, which are the main element of the Kremlin's expensive military modernisation programme, thanks to which Putin promised to modernise at least 70% of all weapons by 2020.
The state-run defense corporation
Rostec
has agreed to start supplying the Russian military with the first operational UAS by 2016. In January 2015, Rostec showcased its brand new flying drone that is called the CHIROK and is able to carry bombs and land on water.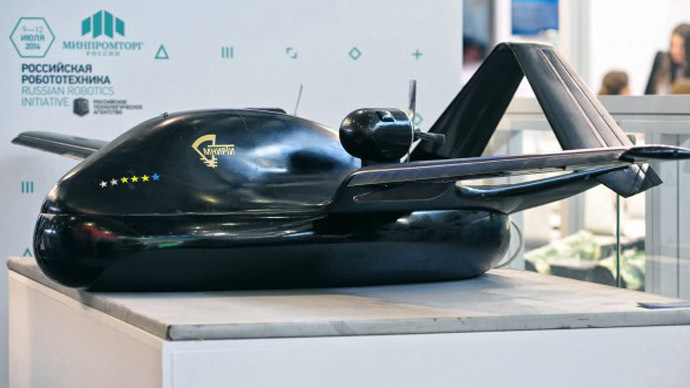 CHIROK is both an unmanned aerial and amphibious vehicle with 6,000m of altitude ceiling, and expected to travel up to 2,500km on a single fueling.
Who will pay for all of this, though? There are clear indications that with that kind of military activities, Russia's money will run out fast. Furthermore, Russia lags behind in the advanced technology required for some weapons systems. Therefore, it can be noted that Putin might be just trying to maintain the image of a robust and nuclear military power without actually having the means to be the president of one. As an example, Putin has vowed that Russia would buy 2,300 T-14 ARMATA tanks by 2020, while the estimated cost for them is more than $7 million apiece. This fact alone raises a question of whether the Kremlin will be able to withstand such expenses amid the plummeting oil prices, weakness of ruble as well as US and EU sanctions, which have been recently renewed for another six months. While it is unclear whether we stand at a threshold of an actual war amid such bold moves from Russia side and its Foreign Ministry warning the US that deployment of new military weaponry anywhere near Russian borders would "
entail dangerous consequences
," there is a high possibility of a new arms race and Cold War.
The US has recently said it is increasing its military presence in NATO states in Eastern Europe, including deploying some heavy military equipment in the Baltic states and Poland to rapidly send 5,000 troops to counter Russia threat and aggression. Russian officials then denounced such a move and called it the most aggressive US act since the Cold War. Speaking at Army-2015 Expo, Putin pointed out that Russia was mostly concerned about a long-term NATO's project to build a missile defence system in Europe, and said that Russia "
is not moving anywhere
." Having powerful military forces located so close to each other, there is a high possibility of the situation rapidly escalating and turning into a military confrontation, which would be difficult to end once started, judging by the clear hatred between the Russians and Western people.
Russia creeping into Eastern Europe? VIYAZ all terrain vehicles during Army-2015 Expo's demonstration programme.