"

Prosecuting a target behind enemy lines, in caves, or in remote area

s," that is what the ground launched Small Diameter Bomb (SDB) is all about. Speaking during day one at PAS15,

Debbie Rub, vicepresident and general manager of

Boeing

's global strike division

, made clear that the new system aims to, "

address the warfighter's need coupled with the need to address obligations resulting from the Oslo convention on submunitions.

" Some 12,000 M26 launchers are deployed globally, which need to be made compliant with the treaty.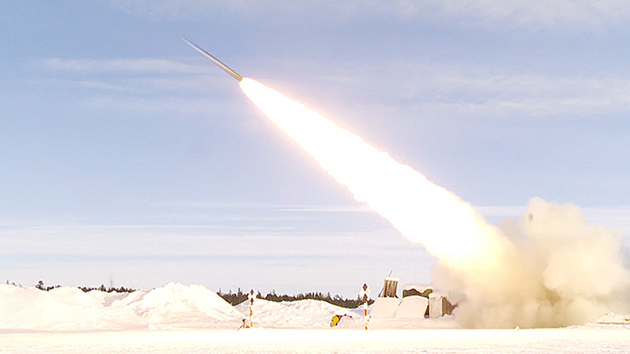 Boeing and Saab team members make preparations for the first Ground Launched SDB test in Vidsel, Sweden.
Partnering with
Saab
to pair two proven technologies, the GBU-39B SDB which is normally ejected from an aircraft and the M26 rocket used on the M270 MLRS, Boeing touts the ground launched SDB as a 360° coverage system that has now also demonstrated reverse slope attack capability.
Reverse slope tactics are often used by troops or insurgents that are on the defence in an effort to reduce the attacker's capability to deliver accurate air or ground based fire support. The system will have a load out of six to keep the same footprint as the current M26 launcher. "
Reach gets greatly extended to 150 km with great accuracy
," according to Rub while the system could be installed on a ship as well. Reaching a ceiling of 20,000ft, "
the beauty of SDB has been that it can stay short or longer aloft of the target,
" she said. Being what she described as, "
the weapon of choice against ISIS/ISIL,
" Rub made clear that Boeing will continue to produce the weapon for the foreseeable future with several thousands being made a year.
Boeing together with Saab have so far conducted three live fire tests with the new system. Although there is no customer yet, Rub said the ground launched SDB capability has attracted, "
the interest of multiple nations.
" When given the green light by one of these potential customers, the ground launched SDB system could be fielded, "i
n 18 to 25 months.
"
Speaking on behalf of
Saab
,
Ulf Hellberg who is vice president and deputy head of sales and marketing
for the company's missile systems activities said: "
It is an integration of two products, not so much a development programme, hence the ability to deliver quickly.
"
The same business model as with JDAM will be used meaning enhanced sensors will be inserted into the programme incrementally. Asked about how the system compares to ATACMS, Hellberg indicated the ground launched SDB system is cheaper and has more range, however, "
it would complement ATACMS filling a slot as there is no such weapon now.
" While the MLRS is used as an area attack weapon, the 250lbs SDB is a pin-point weapon that has a focused lethality warhead.
However Rub hinted a blast fragment warhead could possibly be installed on SDB to bring back some of the area denial capability if customers would want this.