Textron AirLand

is showcasing the capabilities of its new SCORPION multimission jet during the show.
SCORPION
was conceived in record time after the aircraft's design team was formed in 2012. The aircraft first flew in December 2013 and it has flown some 400 hours at a readiness rating of over 95% since, Textron claims. The aircraft's first trans-Atlantic roundtrip flight ocurred in June last year so the aircraft could be present at the 2014 editions of the Royal International Air Tattoo (RIAT) and the Farnborough International Air Show, both in the United Kingdom. A second
SCORPION
jet is planned to be constructed this year while 2016 will see the start of static testing. Some Textron officials believe the aircraft's service life will be around 20,000 hours.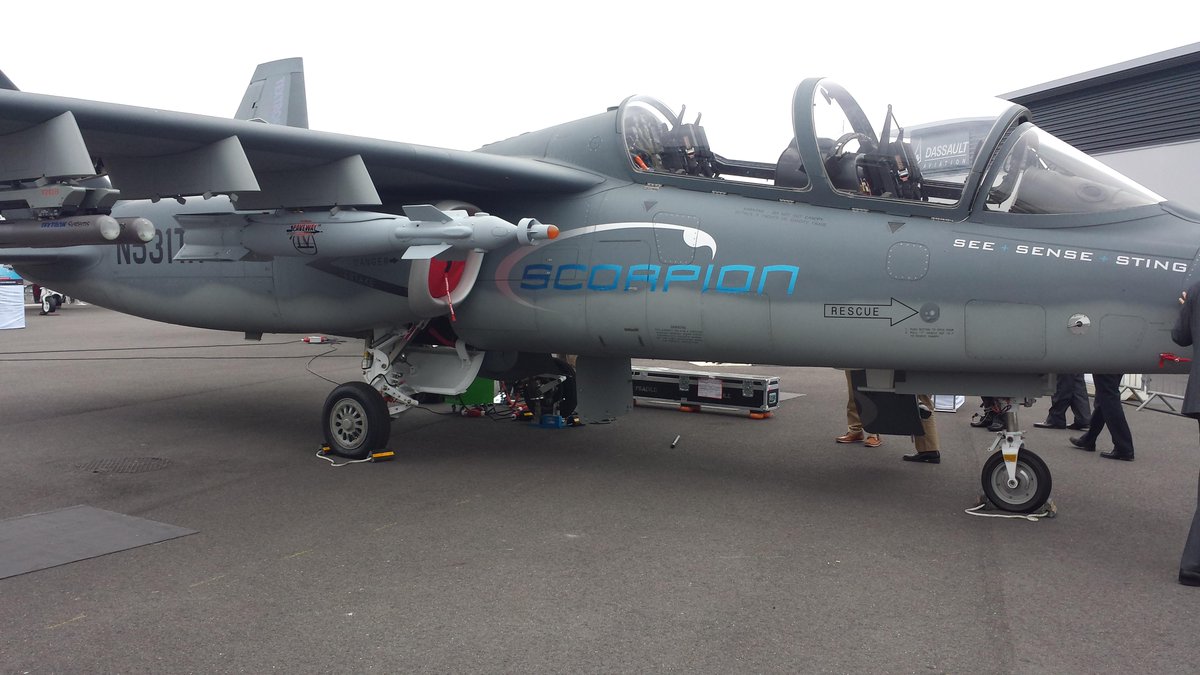 Textron AirLand is showcasing the capabilities of its new SCORPION multimission jet during Paris Air Show 2015.
Touted by Textron as an ISR, advanced training, and precision strike platform, the

SCORPION

features twin engine power giving it a top speed of 450kn, while it also has two seat operation, an all composite structure, and a modern synthetic vision glass cockpit by

Genesys Aerosystems

. The aircraft has a maximum altitude of 45,000ft, while its reconfigurable internal payload bay can hold up to 3,000lbs of equipment. The aircraft on display at Le Bourget is equipped with a

Thales

i-Master SAR and a

L-3 Wescam

MX-15 EO/IR sensor with Widow mission execution software being provided by

ForceX

. Time on station can last up to five hours although this is very much mission dependent. Typical missions for which the

SCORPION

is designed include CAS, FAC (A), armed reconnaissance, maritime security, border security, aerospace control and tactical jet training
Speaking to MT on day one, David Sylvestre, head of corporate communications at Textron, spoke about some of the company's current marketing efforts: "We are planning to compete for T-X while we have numerous active proposals around the world. The only regions we can currently reference are the Middle East, Latin America and Asia."
However one of Textron's test pilots working on

SCORPION

, Don Parker, indicated there is also some interest in Eastern Europe where the aircraft will be demoed once Paris Air Show comes to a close. Afterwards, the

SCORPION

jet will head for the UK where it will participate in this year's edition of RIAT while the aircraft will also take part in a UK navy led exercise, Parker revealed. Parker also explained how Textron has been able to drive down cost by using mainly commercially resourced systems with the aircraft's actuators, brakes also being used on executive jets. He admitted that the

SCORPION,

"cannot fulfill all tasks of today's high performance jets. However,

SCORPION

can generally keep up with strike packages," or, "go slow and stay there for a long time." Meanwhile a single flight hour of

SCORPION

is, "probably a fifth of the cost of an hour of F-16," with Textron indicating that an hour costs less than U$3,000.
Pieter Bastiaans